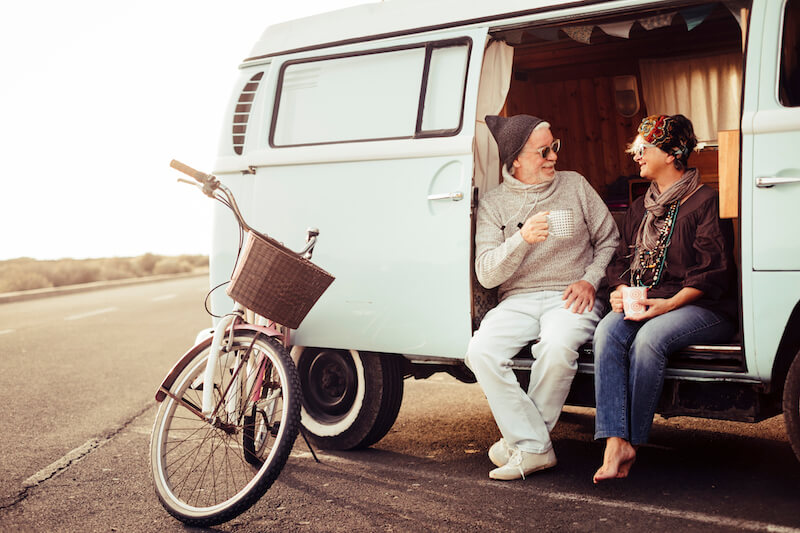 Updated for October, 2023
Living the Van Life: How Much Does it Cost?  
Living the "Van life" has become tremendously popular lately and for good reason. The ability to travel anywhere at any time and have your home on wheels allows for ultimate freedom and exploration. Better yet, it eliminates the cost of rent! As more companies embrace remote work post-pandemic, experts agree the trend will likely only continue to rise. And the appeal also reaches beyond just the flexibility to travel. A van is typically easier to maintain than an RV and much more compact which makes it easier to travel and park. 
Whether you want to purchase a cargo van and convert it into a full-time living situation or buy one ready to go, it can still be a large expense. 
Before hitting the road, we'll break down the average costs to expect and recommend how to go about financing them. 
Living the Van Life: The Cost of The Vehicle 
First and foremost is the cost of the van itself. How much will a van cost me? There is a wide price range of available options to choose from, from a shiny new Mercedes sprinter which will run you about $33,000, to a used school bus or Ford Transit on craigslist for a few thousand. 
Below is a list of the most common vans bought for living and average new costs. Keep in mind prices will vary, especially if you buy used. The below is a list of the average costs we found online for new base models prior to any renovation. 
Most Popular Vans for Living & Converting
| Van Model | MSRP |
| --- | --- |
| 2019 Vauxhaull Movano | $17,500 |
| Ford Transit | $25,175 |
| Mercedes Sprinter Cargo Van | $36,355 |
| Renault Trafic | $37,390 |
| VW California | $45,000 |
| VW Crafter Van | $53,000 |
The model you choose will depend largely on how much space you need. If you plan to live full time in your van, you might need more room for kitchen space, living quarters, and other amenities which can go up to $60,000 on the high end. Of course, craigslist also is a viable option to look for used vehicles. You just might be able to snag a good deal if you shop around. 
Living the Van Life: The Cost of Van Conversion 
Secondly, once you purchase the vehicle you'll need to fund the cost of the renovations in order to turn your vehicle into proper living quarters. The cost of this can range and depends entirely on the amount you wish to change and how fancy you want to get with it. A simple sleeping area for some will do, while others may want a complete renovation and fully customized interior. 
Common Structural Renovation Needs:
Insulation 

Solar panels (exterior) 

Electrical wiring 

Kitchen countertop 

Sink/plumbing

Wood ceiling/floor 

Bed frame
The cost of structural renovations will vary and can run anywhere from $3,000 up to $10,000 and above, depending on how much you DIY. The sky's the limit for modifications and personalization. If you hire a van conversion company, the costs could range from $20,000 to $50,000 and beyond. Of course, many van lifers prefer to get crafty and save money by making alterations themselves which can be done relatively affordably. 
Van Life: Additional Renovation Expenses
Beyond the structural renovations to make your van livable, many opt for add-ons that add to the comfort. It's important to point out that these are optional expenses and will depend entirely on personal style and preference. Similar to renovation costs, these additional expenses can vary. Expensive granite counters and fully built-in cabinets? Fancy leather seats and custom upholstery? The options are limitless. And there's no doubt, these are the things that make it feel like home. 
If you're renovating, you may want to also budget for: 
Upholstery 

Carpet 

Curtains

Appliances 

Countertops

Cabinets 

Lighting 

Bedding

Wifi
Van Life: Budgeting for Life on the Road 
What else will I have to pay for? Though you won't have to worry about paying rent on the road, there are other expenses beyond just the van that you will need to budget for if you plan to live in your van full time. Even if your van is just for getaways, below are some other things you will need to keep in mind. In the event that you're considering getting a personal loan to finance your van life, the money can go toward additional expenses as well. 
Additional Van Life Expenses: 
Gas

Paid campsites 

Insurance 

National/State Park fees 

Van Maintenance 

Water 

Propane 

Laundry 

Other personal expenses 
How to Finance the Van Life
Cash
The cheapest way to finance any large purchase and avoid interest is always to pay with cash. If you're using a van as your new home, you might have the option of paying cash if you've recently sold your house or belongings. In this case, you won't have to worry about owing interest on a loan. A major plus!
If you don't have the cash or want to save it, a personal loan is your next best option. 
Personal Loan
For any large purchases including a van and the cost of renovation and upkeep, a personal loan is likely your best bet. 
If you have good credit and can qualify for a large enough loan, you might be able to roll the cost of the van and renovations into a single loan. The lowest interest and APR rates will go to borrowers with good credit (generally deemed 690 or higher). 
Furthermore, personal loans do not require collateral, meaning you won't have to risk losing the van if you default. If you qualify, you can also receive the money quickly. Funds can be deposited into your bank account within 24 hours and you're free to spend the money on any van-related expenses. 
Custom Van Loans
RV loans are offered by a variety of lenders and major banks but may not be right for every van lifer. They have more restrictions than personal loans including minimum loan amount (we've seen some as high as $25,000). Because of this, a custom van loan may not be right for you if you want to purchase a used van or a less expensive van. 
On the contrary, some recreational vehicle loans may offer fixed rates and low APR for those with good credit. These variables will be dependent on individual financial situations. Albeit, you'll need to shop around for the best rates and compare lenders.
Tips For Saving Money: The Van Life 
The van life can be extraordinarily affordable. Here are some tips and tricks to keep in mind to save money while before embarking on your van life journey.
Look for a used van online 

Purchase a van that is already renovated 

Shop for vans that have good fuel efficiency 

DIY renovations 

DIY van maintenance
Search for free campsites
Track your expenses
Downsize and live simply
Final Thoughts 
Ultimately, the beauty of living the van life is that it can be as affordable or expensive as you make it. Many people escape the financial burden of paying rent by living life on the road and it can be an affordable alternative to many other living situations. Undoubtedly, van life is also a simpler and more flexible lifestyle. Given that you're always on the move, adventure is inevitable with this lifestyle. And for those who find affordable places to camp, you can live day to day with little to no major expenses. 
However, as with anything, there is always the option to fully customize and deck out your van to live a life of luxury on the road; it's completely up to you.  
Best Overall Company to Get a Loan for a Van