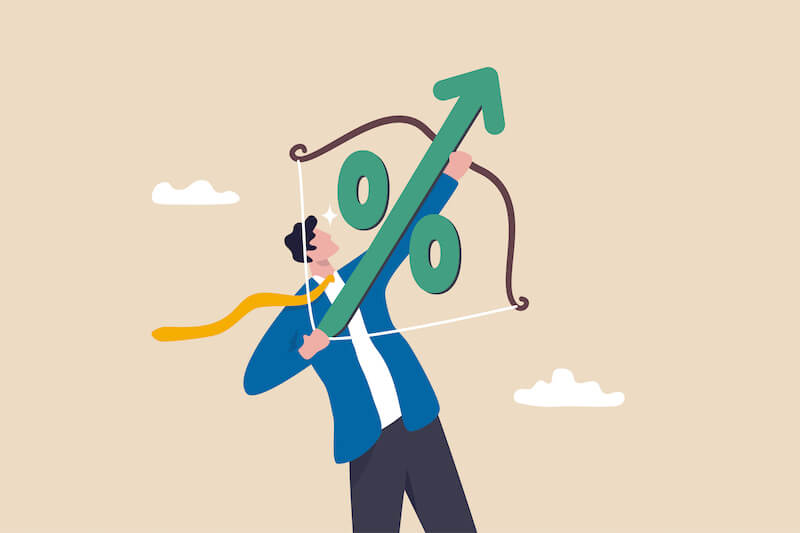 Updated for October, 2023
What's the difference between fixed and variable interest rates?
Simply put, a fixed loan rate has the same interest rate for the entire borrowing period. On the contrary, a variable interest rate is a rate that changes over time. So what does this mean and how much will it change? Who determines the interest rates? Let's explore below
Fixed interest rates explained
A fixed interest rate will never change throughout the course of your loan.
For example, let's say you took out a $30,000 loan to be repaid over 5 years at 5% interest. Let's also say you took this loan out in January 2022. Your estimated monthly payment will be $566 every month. That means $566 in month 1 (Janurary 2022) and 5 years later when it's 2027, you'll still be paying $566 per month.
Pros and cons of fixed interest
Pros
Predictability for monthly payments
Ability to budget spending better
Can estimate tax benefits
Cons
Potential to be more expensive
Variable interest rates explained
On the flip side, variable interest rates can fluctuate throughout the course of the loan.  So, while you might start out with a low monthly payment, you could end up paying more years down the line.
For example, if you took out a 30-year loan with a starting rate of 3.25% for the first 5 years, you would pay about $870 a month for those first five years. Starting on year 6, the interest might go up 1%, which means your monthly payment could increase to $1,342.
Pros and cons of variable interest rates
pros
Potentially lower monthly payments
Can borrow larger amount of money
Cons
No predictability
Hard to calculate how much you'll actually spend
No control over the rate increase
Types of variable interest rates
There are a few different kinds of loans you can get with variable interest rates. These include:
Home equity line of credit
Credit card
Mortgage
Student loan
When a mortgage has a variable interest rate, it is usually referred to as an adjustable-rate mortgage. Common fixed-rate interest rate periods on these types of mortgages are usually three, five, or seven years (expressed as 3/1, 5/1, or 7/1). A 3/1 mortgage keeps the same interest rate for the first three years and increases on year 4, etc.
How are interest rates determined?
Variable interest rates are tied to the prime rate which is controlled by the federal reserve. The federal reserve controls monetary supply and thus, can influence interest rates. If you have a variable interest rate tied to the prime rate, it is likely set at a certain percentage above that benchmark. For instance: If your variable rate is five percentage points higher than the prime rate, a change in the prime rate from six percent to seven percent would cause your variable rate to change from 11 to 12%.
Things that affect interest rates
Inflation can impact interest rates. The higher the inflation rate, the more interest rates will rise. In the end, the government has control over whether or not to raise or lower interest rates.
Key Takeaways
Fixed rates do not change
Variable rates will fluxuate throughout the years
The government and inflation can determine how much interest rates fluxuate
Fixed vs. variable interest: What's better?
This answer is tricky because it will change. Obviously when interest rates are low, it can be beneficial to get a variable interest rate loan. And, studied have shown that the borrower may end up paying less over time with a variable rate. However, there are no guarantees that interest rates won't skyrocket. In general, the longer you plan to have the loan, the riskier the adjustable rate will be. It's common that many borrowers may not be able to appropriately budget for rising interest and payments can become unmanageable.